5th Single Moms Awards Luncheon And Festival Is A Massive Success
LookToTheStars.org's Jennifer Conroy recently attended the 5th Single Moms Awards Luncheon and Festival and wrote about some of the amazing people she met.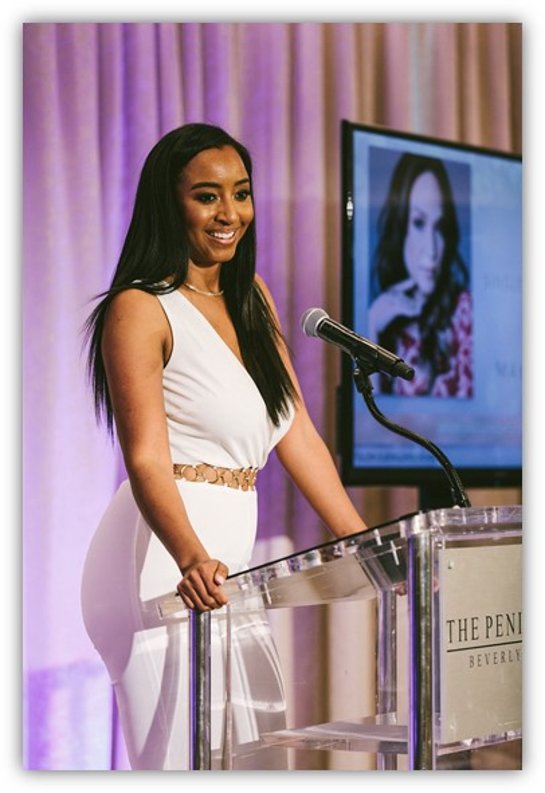 I arrived the to the hotel and was directed by concierge to the Verandah Ballroom, where just outside was the red carpet for the event, with photographers idling their marks ready to capture the remarkable women to be honored that early afternoon. There was an awesome brisk energy in the air, a controlled chaos with women and men rushing around, gathering honorees and directing small details to be executed on time. The Ballroom and courtyard Terrace of the Peninsula on that warm and sunny Friday morning was the perfect venue for this event. I was guided to the terrace after photos for refreshments and memorable chats with some awesome mothers before the luncheon and award show started. Mimosa in hand, I headed to the main event.
Single Moms Planet is an amazing 501c3 non-profit organization that is dedicated to uplifting and empowering single moms in motherhood, career, and life over all. SMP's goal is to build a community of mothers and children who are self reliant, financially strong, and capable with a network of women in their corner.
The Founder and C.E.O, Neferteri Plessy, mother of two, started the organization 5 years ago with the hope to "bring attention to the unique plight of single women and remove the barriers that stand between them and a better life for themselves and their children."
The awards show, now in its 5th year, honors some of the strongest and successful CEOs who happen to be women and mothers – entrepreneurs and business moguls, alike – who all have learned and grown to be who they are with the support of this organization. The event was hosted by acclaimed dancer, actress and singer, Mayte Garcia who did a phenomenal job in its execution.
As for CEO & Founder Neferteri Plessy, we spoke with her today and she had a lot to say about her pride in this awards ceremony and the work that went into creating it.
How does it feel to be on your fifth year hosting this event and celebrating all of these single mothers?
NEF: It feels surreal, you know, I think that's a number one comment in my mind. We've been waiting for this day to happen for the last eight months we've been planning this event. When I first started Single Mom's planet, it was a vision, it was a dream… it was 'let's see what we can do, let's see what we can make happen', and I just brought together my community of single moms and volunteer, supporters, those who were raised by single moms, men, women, children, teenagers that showed up with gift bags. it's been a huge blessing that when I show up to this, it makes it all worth it.
You know, you're in this bubble when you do this event and then it's like oh wow is this what I've been doing for the last 8 months!? I got it.
How do you find time to create that work/life balance knowing that you have this awards show coming up?
NEF: Um, Balance… so the number one thing is at I release the idea that it has to be perfect, and I ask for help. I always ask for help if I need anything. I know that I may not have all the answers and I'm okay with that. I use other people's knowledge to succeed and to do things that I don't know how to do, or do things that I do know how to do, but do them better.
Your mission is to educate women and empower them so they can be the best they can be. What are some of your favorite programs within this organization that you find to be the most empowering?
NEF: I would say our Mastermind brunch. I absolutely love our Mastermind brunch. We do nine of them a year, and we bring in guest speakers, we do different topics on business, entrepreneur, and even parenting, and I think that is one of themes, or community events that we do that really brings volume to who it is and what it is that we stand for as an organization.
The 5th Annual Single Mom's Awards
Honorees included:
Anastasia Soare – Anastasia Beverly Hills
Awarded: Visionary of The Year
Pia Gladys Perey- House of Perey
Awarded: Icon of the Year
Shanna Moakler – Actress/Tv Host
Awarded: Community Activist of the Year
Rodger & Asia Saffold – Philanthropists
Awarded: Family of the Year
Nicole MacDonald- Sash Bags
Awarded: Mom Brand of the Year
Tiffany Hinton – Motev
Awarded: Business Woman of the Year
Alicia Dunams – Wealthy Girl Summit
Awarded: Affluent Woman of the Year
Lee Harrison – Boy Scouts of America
Awarded: Man of the Year
Denise Albert & Melissa Gerstein – The Moms
Awarded: Media Moguls of the Year
The honorees & guests arrived to the red carpet at around 10, after photos and press headed to the terrace to have mimosas, fruit & listen to music while taking in the fun atmosphere of the morning.
Shortly after, guests were directed to the ballroom for a fashion show and lunch.
The fashion show featured honoree and designer Pia Gladys Perey's SS18 line with models effortlessly walking through the table filled ballroom to showcase some amazing gowns. Appetizers were being served and announcements were being made, and soon after the fashion show ended the award show & luncheon began.
There were some technical difficulties getting a video clip to play correctly, but before it could get awkward, Neferteri came to the rescue and offered some brilliant words to compensate for the late video. She handled the situation in a such Mom mode – her way of making the best out of an unforeseen situation.
After the awards ceremony, around 12:30pm all of the honorees and guests headed outside to the Verandah Terrace for a festival portion of the event to celebrate emerging womens brands.
There was champagne, wine, food, music, an awesome photowall, and tons of booths with brands to shop from, like two of my absolute faves – Juvalips and Nicole Frank TWE. I was thrilled that people lined up to check out and purchase Nicole's unique and beautiful designs which are super versatile in wear for any occasion, just as much as they were excited to find out more about Juvalips, the best lip plumper device on the market!
Business Entrepreneurs like Nicole Frank of Nicole Frank TWE, and Gina Fredricks of Juvalips have such strong work ethic, business savvy, and support, something in common with the women who were honored here today.
One honoree, CEO of Anastasia Beverly Hills, Anastasia Soare, had advice to women who'd like to pursue entrepreneurial goals, "First of all, they should do their homework, if they want to pursue something. Go and work for someone you admire, and learn. You need [that] to become the best in something- whatever profession you want to pursue your career." said Soare.
For more information, please visit www.singlemomsplanet.com.
Source: LookToTheStars.org
Leave a comment